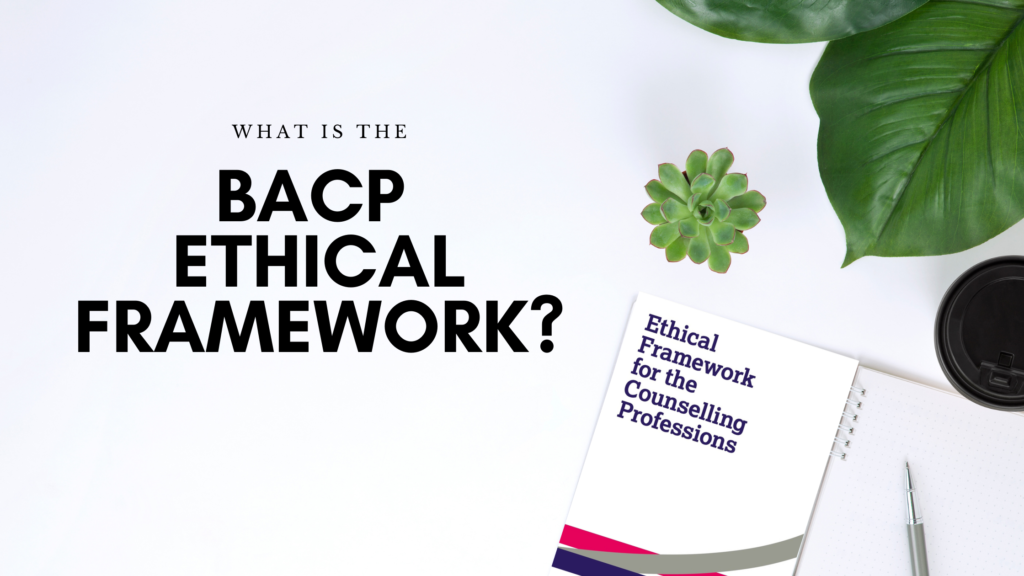 Are you often seeing BACP and wondering "what is the BACP?". Well, it stands for British Association for Counselling and Psychotherapy. It is one of many professional associations for counsellors and psychotherapists in the UK.
Membership is open to individuals who can demonstrate they have received sufficient training and practical experience in therapeutic counselling. Once a member, these individuals (myself included) agree to abide by the BACP's Ethical Framework for the Counselling Professions.
What is the BACP Ethical Framework?
The framework gives counselling clients an opportunity to understand what they can expect from a counsellor. Importantly, it provides several guidelines for therapists relating to how they should carry out their work.
These include having appropriate supervision and agreeing to undertake continuing professional development.
How the BACP can help you
They have a role to support both therapists and their clients.
If you ever need to complain about a registered therapist, you can contact the BACP for advice. This is particularly helpful as many counsellors, like myself, work independently. If you feel the need to complain, it can often feel difficult speaking directly to the therapist.
Counsellors have access to journal articles and additional training through their annual membership subscription.
Is the BACP trustworthy?
BACP membership has a number of 'levels' and all Registered Members, like myself, will be listed on the BACP Register. This register is one of eleven registers accredited by the Professional Standards Authority for Health and Social Care for counsellors in the UK, and one of ten for psychotherapists. The BACP is the largest association for counsellors in the UK.
However, even though someone is a member, it doesn't mean that they always behave to the highest professional standards. If you experience unprofessional counselling or psychotherapy from a BACP member, you may need to raise a complaint about them.
Can the BACP help me if I have a complaint about a therapist or a counselling service?
Yes, the BACP provides a complaints process for clients. In fact, after helping you find a counsellor, you probably won't need to use their services unless you have a complaint or problem with your counsellor or counselling service.
I should mention that if you are seeing me as a client and have a problem with any aspect of our work together, please contact me and I will do my best to put things right.
This would be the case if you are seeing another therapist (though please contact them, and not me!) Communicating the aspects of therapy that aren't working for you, or the unwelcome behaviours of your therapist, can be a great opportunity for growth within your counselling relationship.
However, sometimes this isn't possible. I won't go into the reasons, but it's important that if you feel you experience something wrong in therapy, you try to seek advice.
If you don't feel you can talk to your therapist, they provide a service that used to be called Ask Kathleen but is now called Get help with counselling concerns service. You can speak to a professional advisor who can help you understand the BACP member complaints process before you start.
What else does the BACP offer that could be helpful to clients?
Aside from being able to search for therapists, or raise concerns about their conduct, there are a range of other resources on their website that you might find useful.
One article on their website looks at what happens in therapy. Though it is quite short, it gives you a sense of the structure you should expect from a session. Especially the first time you see a therapist.
Elsewhere, there is a guide to the different places you can get therapy from. This includes via your GP, through a charity, or privately, through someone like myself.
On that note, if you are interested, you can contact me to book an online counselling session. I work with adult clients across Europe.
Summary
To sum up, there are many different associations that a therapist could be a member of. Each has their own set of entry requirements, continuing membership requirements and ethical guidelines that set out how their members should behave. The BACP is one of those organisations, and one of the largest ones in the UK.
As I am a member of that organisation, I agree to their ethical framework which means that if a client feels I am not abiding by those guidelines, they can contact the BACP to make a complaint about me. What's more, the BACP is a great resource for anyone thinking about starting therapy, thanks to its member directory.